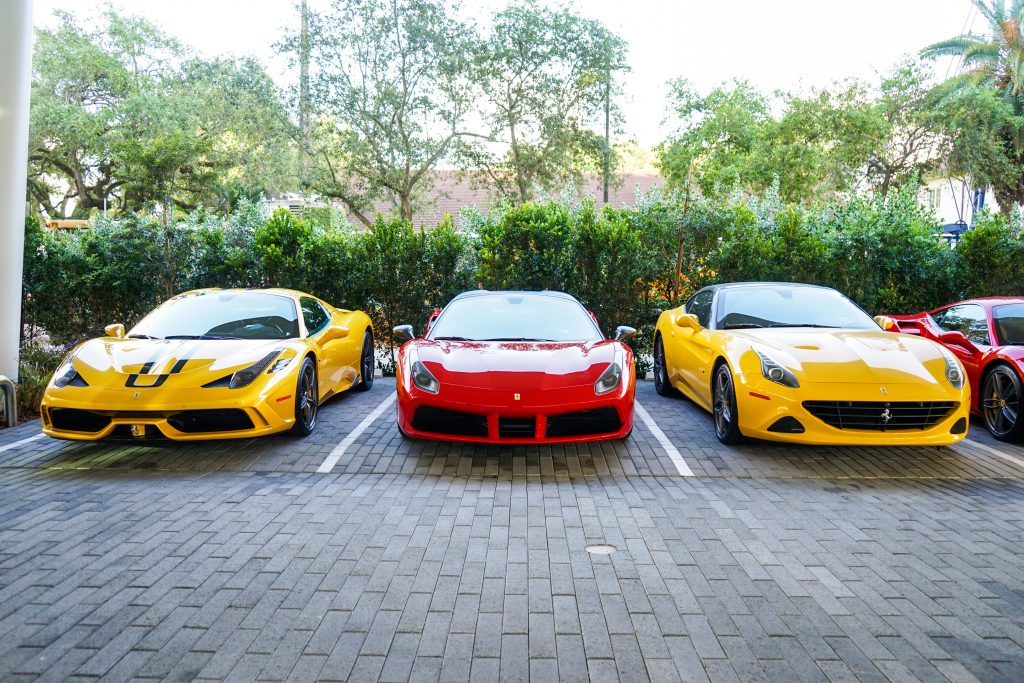 On Saturday, July 13, 2019, The Collection Ferrari and Ferrari of Miami, in collaboration with Toys For Boys Magazine and Veuve Clicquot, held a champagne dinner and Portofino test drive event at Mr. C's Hotel in Coconut Grove.
Upon arrival, guests were welcomed by the breathtaking views of a Ferrari Portofino display and the modern version of old-world simplicity and stylish European glamour of Mr. C's hotel. Guests had the opportunity to test drive the Portofino down the streets of Coconut Grove and enjoy the breathtaking views of Biscayne Bay and the Coconut Grove skyline. Post test drive, invitees enjoyed the venue's signature Bellini's in the hotels garden. Then, guests were then escorted upstairs to the hotel's rooftop ballroom. Once everyone took their seats, Toys For Boys Editor-In Chief, Jilian Sanz, thanked everyone for joining us for a beautiful night. Nicolas Gamarra, Ferrari Sales Manager at The Collection and Ferrari of Miami also spoke to introduce Ferrari and what it truly means to be part of the Ferrari Family. Victor Blanquart, Private Client Manager
from Veuve Clicquot then introduced guests to the selection of luxury champagnes and toasted to a magical night.
To end the night on a sweet note, guests were delighted as they each went home with a leather Ferrari champagne bag. Inside, a special bottle of Veuve Cliquot Rose to further share the experience with friends and family with their Ferrari bag in hand.
About the Ferrari Portofino
The Ferrari Portofino is the most powerful convertible to combine the advantages of a retractable hard top, a roomy boot and generous cockpit space plus two rear seats suitable for short trips. The Ferrari Portofino's all-new chassis features a significant weight saving over the California T it replaces. Thanks to the extensive use of modern production technologies, all the chassis and body-in-white components have been redesigned with a consequent reduction in weight despite an increase in torsional rigidity.
For more information about the Ferrari Portofino, please call Nick Gamarra at 305.476.2017