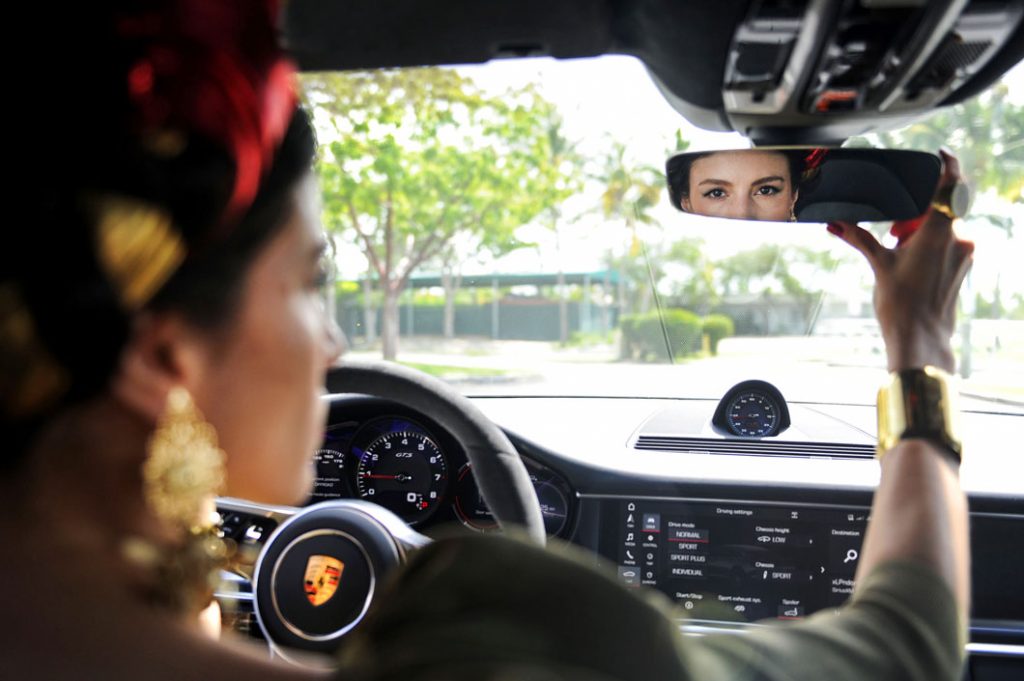 All photos and video by: World Red Eye
THE COLLECTION is continuing our partnership with World Red Eye for #SummerDrive305, as we collaborated with the Miami based fashionista, Danié Gomez-Ortigoza @journeyofabraid to enjoy a ride in the stunning Porsche Panamera Sport Turismo GTS. You may recognize Danié as the women with the braid; you're certainly right about that but the entrepreneur, philanthropist, and mom proves style is in her DNA.
Her blog @journeyofabraid, is a feminist approach to beauty, self love, and of course her colorful style. Having worked as a TV host, copywriter, digital strategist, marketing director, and now consults for brands in the Miami market – Danié has done it all. The Mexican native, makes our list as Miami's most fashionable. Therefore, it was only fitting we paired Danié in a vehicle that is as powerful and sleek as her. Read the full Q&A below to learn more about Danié's journey and her experience driving the Porsche Panamera Sport Turismo GTS.
WRE: You're known as one of Miami's most fashionable. How would you describe your style?
DGO: I describe my style as colorful with a touch of tradition.
WRE: Who is your fashion or style icon?
DGO: For me style is a certain aspect of someone's personality more than an aesthetic accomplishment. My absolute style icon right now is Florence Welch, from Florence and the Machine. Her looks are an extension of herself, they tell stories.
WRE: Based on your Instagram it seems you're always traveling! How do you draw inspiration from different places around the world?
DGO: I've lived in five different countries and many different cities, which has created a deep curiosity of how things are engineered differently around the world. My inspiration comes from understanding the mindset and the cultural context that drives each city I visit. Every city has a different visual language that I find incredibly enriching.
WRE: You work as a consultant in Miami, can you tell us about what that service entails?
DGO: I've been in Miami for five years, and I'm in love with this city, and extremely grateful for the opportunities it has given me. I didn't plan to work as a consultant, and yet I started to understand the way the city works, and the incredible people that are here. I've worked in this capacity for Isabel Marant, Go Daddy and MasterCard among other clients building bridges between the brand and the people that can fuel their vision in the city.
WRE: Tell us about your experience working with THE COLLECTION?
DGO: It was such a fun experience! It was unexpected, and during my birthday by chance, which made it so special.
WRE: What was your favorite feature of the Porsche Panamera Sport Turismo GTS?
DGO: It's a delight for the senses. The wheel is so soft, the aroma of the car is so sexy, my music has never sounded better, and the speed is incredible.
WRE: What is different about the Panamera than other cars you have driven?
DGO: It has a very particular halo. I've driven other high-end vehicles for most of my life, but this car is an icon of its own, it's impossible to compare!
WRE: Where did you drive the vehicle?
DGO: I drove all around the Grove, Coral Gables, Bal Harbour, and The Bakers in West Palm Beach for my birthday.
WRE: Tell us the story behind your signature braid. 
DGO: The braid is my feminist manifesto on the importance of women supporting each other, it carries a daily intention. It started after I put together the first Mexican delegation for the Women's Forum for economy and society in Deauville, France presided by Salma Hayek, back in 2014. I braided my hair a different way back then, and all the top women I had recruited for the project, asked me to braid them on the last day. I realized the power of this sisterhood and our connection through this simple act. I had a long story with braids, as my indigenous nanny used to braid me when I was little. As I didn't live with my mother, this was the closest I had to that kind of motherly connection. The person I worked with for this project, JC Agid, gave me an Hermès carre and I added it to my look, and promised to myself I would knit every braid with an intention to help another woman out. And that's where the journey began.
WRE: In 2018, you launched your own line of scarves called 'Canvas' which launched in October 2018, what inspired you to create your own brand. 
DGO: For me Canvas is the invisible thread that braids us women together. It's all about understanding that we are one, which is why I didn't choose to keep it secret. Braids are a cultural element of power that have transcended generations. For me it's also my shield, and a visual cue that reminds me of the owner with me, beyond my cultural baggage. It's also rooted on the power of intentions. Every knot is about helping another woman out. I wanted to share this with everyone. Also, in order to get the right form, and volume, a certain combination of textiles and length is needed. A normal scarf won't do.
WRE: Can you tell us about your work with the Women's Forum for for Economy and Society in France? 
DGO: My youngest son was 6 months old and my oldest was a year and a half when a friend of mine asked me to build a delegation with the top 50 women in Mexico to represent my country at the Women's Forum for Economy and Society in Deauville, France presided by Salma Hayek. At that particular moment I was ready to let go of my professional persuits because of how hard it was to raise my children without a support system and living in Sweden. Through the process of recruiting and listening to the stories of these women, I was brought back to life, being reminded that no situation can ever stop you from going behind the things you are most passionate about.
WRE: You co-founded Fashion4Good with Martha Graeff.  How has the benefit of this organization played out? 
DGO: I believe we all have a capacity to give back, and I had been searching for a way to use my voice on social media with more purpose after a very bad experience during the earthquake in Mexico in 2017. Martha is an incredibly special woman, and when she reached out to me to make this happen, I knew this was the perfect way of accomplishing this dream. We are a group of women united by the understanding that we have the power to make a difference, and once a year we create a Bazaar at the Design District with incredible prices on brands that partner with us donating product. Last year we helped India, and this year we all for Venezuela. Our event will take place at the end of November.